Lique 1 has produced an abundance of quality wingers in the past couple of years and it is not hard to see why. This seasons Lique 1 2010/11 campaign shows why wingers strive in this league. Out of 20 teams, 18 use formations that encourage the role of wingers. Sochaux and Arles are only 2 teams that use the 4-2-3-1 tactic, clearly a more narrow formation.

Here is a list of the most used tactics utilized for all Ligue 1 teams.
Lille, without a doubt has been the most exciting and strongest team in Lique 1 this term. Manager Rudi Garcia's 4-3-3 tactical system is an offensive one with an eye for goals, Lille are the league's top scorers with 63 goals. Garcia can also count on a good defensive unit, which has only shipped in 32 goals, the second best defense in Ligue 1.

When analyzing Lille's main playing style, their specialty really lies within the attacking trident of Hazard, Sow, and Gervinho. When looking at Lille's heat map for their 3 main forwards it becomes very obvious. Just like Barcelona, Lille's top 3 forwards love to interchange positions with each other, which makes it difficult for defenders to mark against.

Lets look at Lille's attacking trident – Hazard, Sow, and Gervinho.

Eden Hazard – FWL (Rating: 7.26)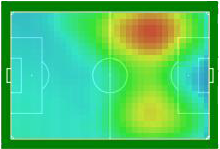 Hazard's avg. touches heat-map show that he has played on the left attacking side of the pitch the most. Just like any winger he does slip into the right side every now and then. Hazard started 22 times as a "left forward" producing 4 assists and 2 goals. Funny enough out of the 7 times he started as a "right forward" he scored more (3 goals) and assisted 1.

Hazard can be compared to Barcelona's Messi; both are key in assisting, scoring, and creating problems of opposition's defenses.

Moussa Sow – FW (Rating: 7.23)
Sow is Lille's focal point in their attack. He started 25 times as a "centre foward", scored 16 goals and assisted 3. His avg. touches heat-map shows something that most might not expect from a centre forward. Sow's average touches are predominately on the right side of the pitch. Clearly similar to Barcelona's centre forwards. He has also played as a "right forward", where he has scored 5 times in as many appearances.

Similar to Villa from Barcelona, both start matches as centre forwards but through-out the match drift to the wings (Villa likes to play on the left for Barcelona.)

Gervinho – FWR (Rating: 7.4)
Gervinho has started 18 times as a "right forward", producing 8 goals and 6 assists. His avg. touch heat-map shows exactly where is does most of his work, and that's on the right side. His secondary position is on the left side of attack, where he has 8 apps, 2 goals and 1 assist.

He is the most balanced out of Lille's forwards in terms of effectiveness, just like Pedro, both are the least talked about but always produce consistent displays.
Lille will have trouble holding on to all 3 of their strikers this summer. Top teams all over Europe are fighting to get the services of Hazard, Sow, and Gervinho. If they leave there will be big holes to fix, but Lille will not have to search too far as they sit in a league with an abundance of skillfull attaking players.