The dust is only just settling on the international retirement of Franck Ribéry, and it will continue to wag French tongues for a while yet. "I don't understand him," UEFA president Michel Platini told Bild am Sonntag in an interview published this weekend. "He's French, and the Euro is happening in France." France's famous number 10 of yesteryear also floated the possibility of banning the Bayern Munich man under existing regulations if he refused a call-up.

On a practical level, this is unlikely. Coach Didier Deschamps had rhetorically asked earlier in August "why (would I) take someone who thinks it's better not to come?" - so any call to force the issue seems improbable. Deschamps has also had breathing space to find a solution having had Ribéry's services snatched away by injury on the eve of the World Cup. Even if the football community at large may be deflated by the winger's decision, France are well on their way to dealing with it.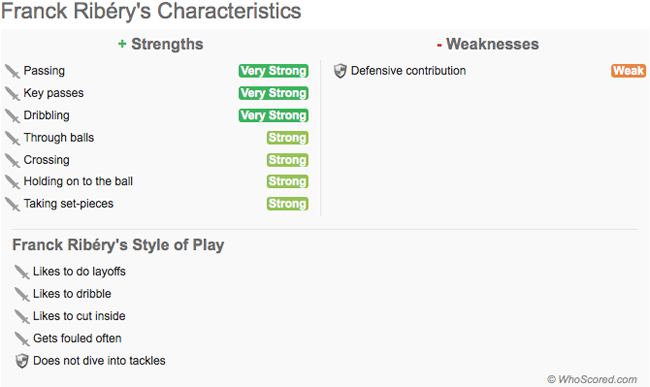 In terms of a direct replacement on the left side of attack, Antoine Griezmann is in pole position to make the spot his own. If the 23-year-old's career map is quite distinct from that of Ribéry, the pair's introductions to international football have their parallels. Like Ribéry, Griezmann broke into the full national side in the run-up to a World Cup – he debuted against the Netherlands in March – before going onto make an impact in the tournament itself.

It would be false to describe Griezmann's rise as meteoric, given how he was rejected as a teenager by Lyon, and he made his first-team bow for Real Sociedad in La Segunda in 2009. Yet he is now getting to grips with becoming a bona fide star, with reaching the full France side followed by the €30m move to Atlético Madrid. His increasingly scintillating form with La Real is what got him here, with 16 goals and 3 assists registered in La Liga last season.

There is still work to do in terms of attaining the relentless consistency required at the highest level from somebody of Griezmann's talent. He was the joint lowest-rated player in France's starting XI against Spain on Thursday with 6.3, the same rating as Moussa Sissoko, with the Newcastle man often looking uncomfortable shoehorned into a role on the right-hand side. There is certainly promise. The shoot-on-sight policy that makes him quite a contrast to Ribéry (3.2 per game in La Liga last season) is still present and correct, as Sérgio Busquets can attest after being pole-axed by one Griezmann piledriver on Thursday.

It was, however, his withdrawal that ultimately led to France's matchwinner, with Loïc Rémy firing in the decisive goal having replaced Griezmann just before the hour. The pair are very different players, with Rémy thought of more as a centre-forward than a winger, though he has featured extensively in wide positions for Nice, Marseille and France (including the under-21s) throughout his career. Rémy also played wide on the left for Newcastle on occasion last season, reprising his hero Thierry Henry by dropping inside to shoot. This brought him 14 Premier League goals in just 24 starts.

He is clearly not a genuine winger – his crossing is nowhere near good enough for that – but more a modern wide forward, and in this sense he shares a directness with Griezmann that sets them both apart from Ribéry. Even without the Bayern man, Deschamps has alternatives, as the Spain game showed.
Rémy is nowhere near as tidy on the ball as Griezmann (63% pass success compared to the 92% of the player he replaced) but that's not what he's there for. The manner of the winning goal was indicative, with Mathieu Valbuena – nominally in the number 10 role pulling wide to deliver the assist to Rémy, who slipped infield, to score with aplomb.

If Deschamps ever thought he needed one player to entirely make up for Ribéry's absence, then Valbuena's superb World Cup contribution probably dissuaded him. If Valbuena's size convinces many that he should be a winger, Deschamps knows better, having had him under his charge at Marseille where Erik Gerets had already introduced the player to a central role.

Valbuena can still play wide right in a 4-3-3. Deschamps may well decide this is the way to get the best out of Karim Benzema and Griezmann, and Sissoko stepped into that in Sunday night's match in Serbia, presumably in an attempt to stymie the forward runs of Aleksandar Kolarov, but this would not be part of the long-term plan.

In a 4-2-3-1 against Spain, Valbuena shone. He carried on his excellent work from the World Cup, delivering 3 key passes, which was his average over 4 games in Brazil. The 29-year-old has maintained his fine fettle since moving to Dynamo Moscow (2.8 key passes), and has already delivered 4 assists in as many matches. His mastery of set-pieces has been clear in the Russian Premier League and this is key for France too – 3 of their last 4 goals have been from corners, with Rémy's against Spain the exception, though Newcastle's Rémy Cabella sent in the ball for Paul Pogba to open the scoring in Serbia on Sunday night.

It was part of a very good first France start for Cabella, another player with goals in the locker after hitting 14 for Montpellier in Ligue 1 last season. He is more of a dribbler than either Griezmann, completing 2 per match since arriving in England (Griezmann typically contributes 1 per game). He fits in perfectly with France's modus operandi. 42% possession against Spain still saw them register a 10-7 superiority in terms of shots.

If anything will make the French public wistful for Ribéry, it will be the sight of Deschamps' team counter-attacking with intent. It was, after all, Ribéry who was key in one of the most compelling team displays on the break in recent years when Bayern tore apart Barcelona in the Champions League semi-final first leg in April 2013. Still, the amount of talent willing to step in is notable. The hosts promise to be fun in just under two years' time.
What do you think should be France's starting front line? Let us know in the comments below